Our belief that change should be community-driven guides all our organizational decisions. As an anchor non-profit in East San José, SOMOS Mayfair aims to challenge the status quo of our sector--- one which often provides services without prioritizing community voice or need.
At SOMOS, we use a unique model to train, support, and coach Promotores (community workers, peer mentors) to take ownership of their neighborhood, in order to catalyze significant gains in community development, educational success, and economic opportunity. These leaders are parents in the community with a passion for justice and equity, and they organize neighbors, facilitate workshops, and guide our programmatic priorities.
Promotor Model
Each year, SOMOS recruits, trains, and mentors a cohort of neighborhood residents to serve as Promotores. Trained in SOMOS' unique Promotor Model influenced by international best practices, Promotores impart lessons and support families to adopt practices that foster successful students and healthy families. This work is done in people's homes, in parks, at the community center, in church halls...anywhere people gather in Mayfair. By taking the "classroom" into traditional and non-traditional spaces, our Promotores do their work in a very public and visible fashion. This is intentional. In order to turn our work into a neighborhood movement, the work must enter the consciousness of the community, and must be perceived as a cultural norm and practice of Mayfair.
Promotores are effective because of their strong relationship-building and ability to identify with the language, culture, and lived experience of their peers.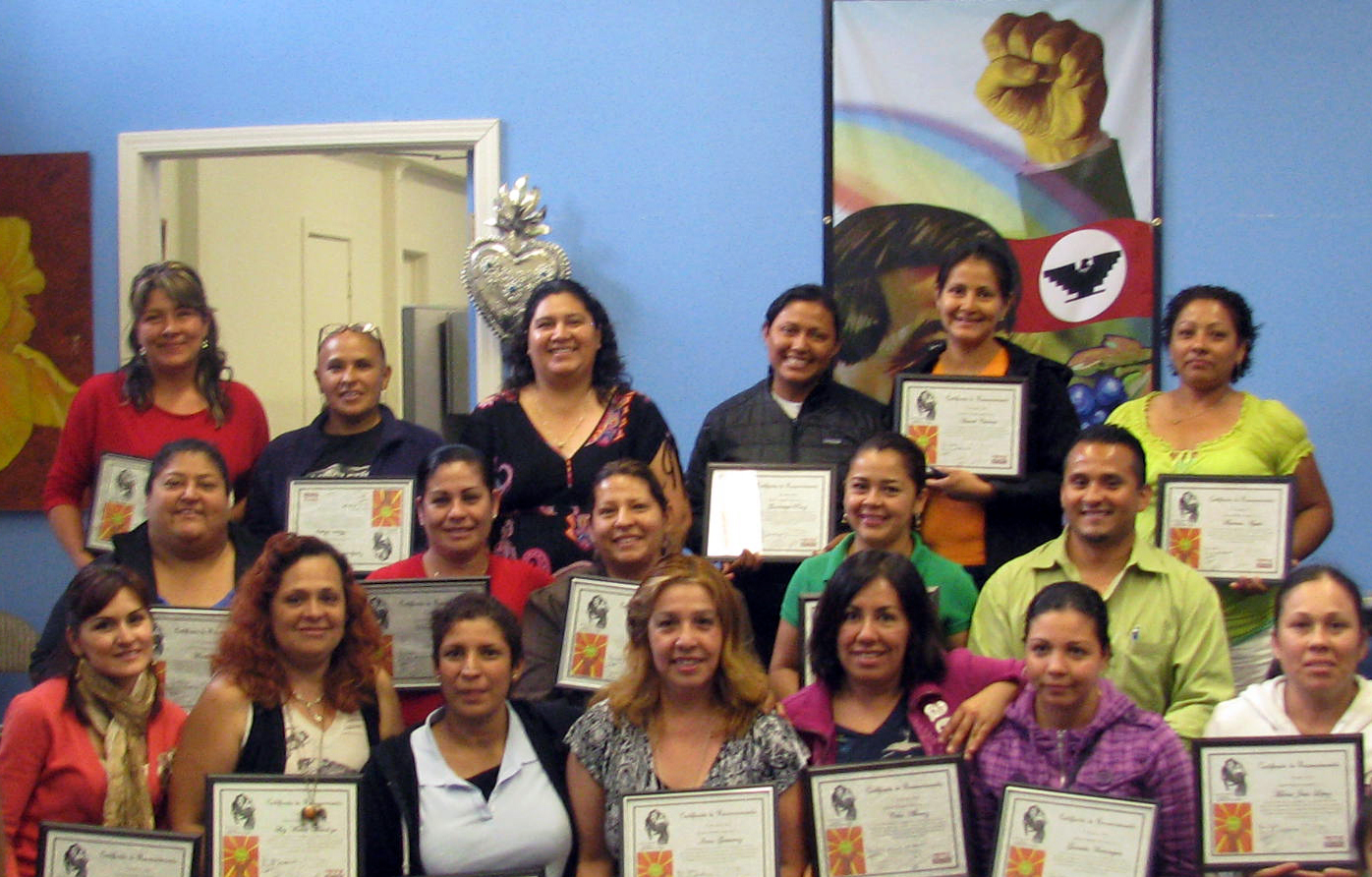 Universidad Popular de Mayfair
Leadership development begins with community members recognizing their own strengths and experience. Through mentorship, learning, and practice we build a leadership that generates more leaders.
Universidad Popular de Mayfair (UPM) is an ongoing program that offers these leaders trainings and tools, as they work towards becoming certified Promotores. UPM offers open houses, community movie nights, neighborhood dialogues, retreats and more.
For more information, contact Amelia Post at apost@somosmayfair.org
Testimonials
"We volunteer as SOMOS Promotores because we saw how these programs have helped our own children. We have learned how to support our children's learning; we have improved our exercise and eating at home; we have learned skills to find a style of parenting that works in our home. We want to help other Mayfair families do the same." –Imelda & Jose Luis, SOMOS Mayfair Promotoras
"It gives me pride that the work of engaging Mayfair residents is now in our hands. I feel that we as Promotores have the power to pass on to other Mayfair residents everything that we have learned at Somos Mayfair so that they also have the opportunity and desire to move forward." –Nelly Blas, SOMOS Mayfair Promotora
"I am more open, I have been able to heal the pain of my past and I am able to value myself. I can see the needs of other women and have the words to talk in public. Here with so many women, with so many problems, some worse than my own. It's a place where you can talk, express yourself." –Carmen, SOMOS Mayfair Promotora
Learn more about our SOMOS Fuertes network, where we connect Promotores to a wide variety of careers and connections.